Bellami Hair Extensions & Halo Couture
Our hair extensions come in many lengths starting from 14 inches all the way up to 24 inches which is made from 100% Remy human hair. The most superior quality which helps it blend naturally with your own hair and can be washed, blow dried, flat ironed, and/or curled using hot tools: just like your own hair! They have such a wide assortment of colors to match the look you're going for. They're perfect for a style change, adding fullness, giving full length and works beautifully for fine or thinning hair.
Tape-in extensions are extensions that are basically taped onto your roots. They lie completely flat against the head and are barely noticeable. You're able to style, dry, and iron the extensions just as you normally would with your hair.
The extension is bonded to inch-long adhesive strips. The stylist peels off the cover, revealing the adhesive, and sandwiches small sections of natural hair between two of these strips. And for removal the stylist would have to drench the tape in a solute that loosens the adhesive, and then gently wiggle the extensions off. After all this you'd need to do is wash your hair a few times with shampoo to completely rid the solution. You would need to stick to a schedule of removal and/or reapplication every eight to ten weeks. As your hair grows out, the bond inches farther away from the root, and the further the bond is from the root, the more likely it is cause issues.
Our hair extensions don't only add just length, but also volume, depth, texture and movement which is the best for fine or thinning hair. It helps give you that flexibility to rock whatever fits your style. What's also nice is the ability to add highlights to your extensions which does not ruin or destroy them.
If you're curious how they can hold up to everything you throw at it, it's because they're 100%-natural human hair which is aligned from root to tip with superior quality that eliminates matting and tangling. They are used with clips that can be easily applied to your scalp to make removing them extremely easy.
The reason people are making the switch to wearing clip in hair extensions is that you can now completely transform your look within minutes and without any major style commitment or processing damage to your natural hair. You can change your style within minutes to complete the look you want to achieve.
Keratin Tip (Hot Fusion, Cold Fusion)
Our Keratin Tip extensions are installed using a heating element which safely melts the tips onto your own hair. These tips are partially made of the same naturally occurring protein found in your hair.
A silicone base additive on the tips helps to create a protective coating for your natural hair strands. Your stylist will ensure there is enough space to allow free movement of your hair which maintains a natural layered texture and feel to your hair.     
I-Tip extensions are put on with a strand-by-strand application, without using heat or glue, this is an especially great application for those with thinning hair. This is achieved by threading each I-tip and a strand of your hair into the looping tool and through a looping bead and then attached by clamping the bead to the clients hair. The I-Tip uses high quality copper beads with protective silicone lining which is the most gentle on hair.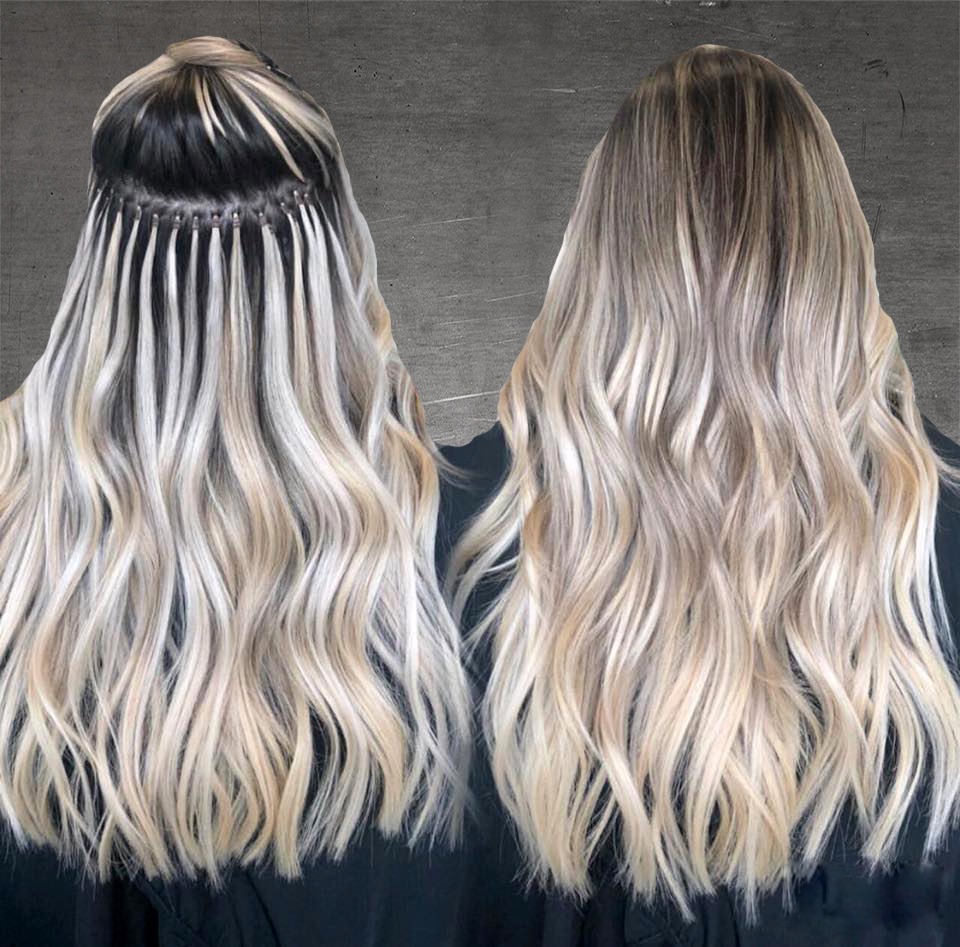 Weft in/grace hand tie extension
Wefts hair extensions are ideal for coarse, curly or thicker hair. No tape, glue or heat needed for this volume-enhancing look. Volume Sew-in Wefts are put on by using a looping tool, beads, a micro-beaded threader, a spool of nylon-based thread and a curved sewing needle. They're installed by choice method of beads or braids to create a secured base. They are the thinnest, flattest, and most discreet weft on the market.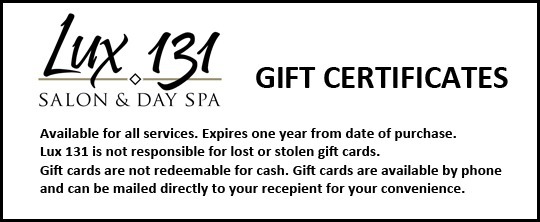 We require a 24-hour notice of any cancellation.
Prices are subject to change without notice.
*For your convenience, we recommend you schedule your next appointment prior to leaving the salon.
*For their safety, and for the comfort of our clients, please do not leave children unattended in the salon.
*No cash back on returned products, store-credit only. There is a cancelled check charge of $30.