All facials are custom blended for your skin type and individual needs. Self-care will be advised after each facial.
LUX Signature Facial – $100 &up
Our most POPULAR Facial! The Signature facial is a customized treatment for your particular type of skin. Using a gentle powerful exfoliating enzyme peel gives the skin a smooth and healthy appearance. Delight your skin and senses with this amazing treatment facial.  Double exfoliation, custom treatment mask, hand scrub, hydrating hand treatment and relaxing warm stone massage make this a client favorite.  Recommended for most skin types.
Hot Stone Massage Facial – $79 &up
A facial that includes cleansing, exfoliating, mask, and a massage. Massage your shoulder and back with hot stones, the stones will warm your body and loosen your muscles to allow for a release of tension and stress without adding extra pressure. The feeling is both highly relaxing and therapeutic.
Anti-Aging Facial – $85 &up
Refresh your skin with this specialized anti-aging treat.  Soften lines, plus pump and hydrate your skin.  Includes face, shoulders, and hand massage.  A seaweed eye mask is also included!  Recommended for those concerned with the appearance of aging skin.  This is an excellent facial to add a chemical peel for your skin type.
Back Facial – $65 &up
The back facial treatment will help cleanse and exfoliate the skin to reveal a brighter and smoother skin. A customized mask is applied to clarify and soften the skin while providing a deep moisturizing treatment. Massaging the back will send you to a place of relaxation.
Deep Cleansing Anti-Acne Facial – $79 &up
Address the issue of inflammation that is connected to acne and acne rosacea.  The goal of the facial is to calm and reduce redness.  Includes hands and shoulder massage.  A first step towards calmer and clearer skin.
Deep Hydrating Facial – $79 &up
A drink for your skin!  Plump and hydrate your skin with super-hydrating treatment exfoliants, a massage, and a mask.  Includes mask with Peptides, vitamins, and a hydrating Serum. After this treatment the skin is relaxes, deeply nourished, and moisturized. Recommended for dry, dehydrated, thirsty skin.
European Facial – $79 &up
The European facial consists of a facial cleanse, exfoliation, extraction, and hot steam vapor treatment as well as a hand, neck, and shoulder massage. Your skin will immediately appear brighter, tighter, smoother, and more even in tone and texture.
Express Facial (30mins) – $50 &up
Address your skins most desperate needs.  Cleanse, exfoliate and mask equals a more fabulous you! The Express facial will allow you to get a quick glowing and refreshed look and feel to your skin. This facial includes a hot steam treatment, an exfoliant, a facial mask, and a hand massage.
Ultra Calming Facial $79 &up
Calm your nerves and your skin with this treatment facial.  Aromatherapy and warm stones are included.  Emerge relaxed and refreshed with this treatment that appeals to your skin and your senses.  Recommended for red or reactive skin or for those in need of calming their skin or mind.
Dermabrasion $50&Up
An exfoliating technique to remove the outer layer of the skin by the use of instruments usually targeting around the facial area. Helps improve the appearance of the skin, it helps treat fine lines, sun damage, acne scars, and even textures. 
 Chemical Peel $35 &up(30% Glycolic, 20%Lactic, 20%Salicylic, or TCA) 
A chemical peel enhances and smooths the texture of the skin by exfoliating the outer layers of dead skin, revealing a new skin layer with an improved tone, texture, and color. It's an effective treatment for facial blemishes, wrinkles, and uneven skin pigmentation.
Enzyme Peel $35 &up
Enzymes are used to exfoliate dead cells, diminish scars, age spots, fine lines, and discoloration, and may also penetrate the skin to cleanse pores and improve skin tone and texture.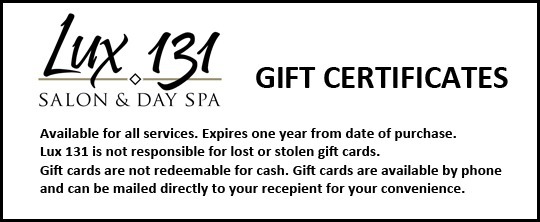 We require a 24-hour notice of any cancellation.
Prices are subject to change without notice.
*For your convenience, we recommend you schedule your next appointment prior to leaving the salon.
*For their safety, and for the comfort of our clients, please do not leave children unattended in the salon.
*No cash back on returned products, store-credit only. There is a cancelled check charge of $30.